How many of you have ever thought of using any face wash that is really natural. In market you'll get few products which say as natural but isn't 100% when you look out the ingredients. What if I say you can make yourself a good and best face wash yourself at home. That too all natural with few ingredients. Here are few homemade aloe vera face wash DIY recipe that will help get a instant glowing beautiful skin.
Aloe Vera face wash for can made helpful to make your skin glow by just use for a few minutes. Aloe Vera is rich in anti-oxidants which can boost your skin to re-gain the fairness or smoothness you have been searching from years.
So without any delay, here are top homemade aloe vera face wash DIY recipes you've been waiting for a long time .
Read more : ALOE VERA FOR SKIN,TOP 10 BENEFITS,SIDE EFFECTS AND MORE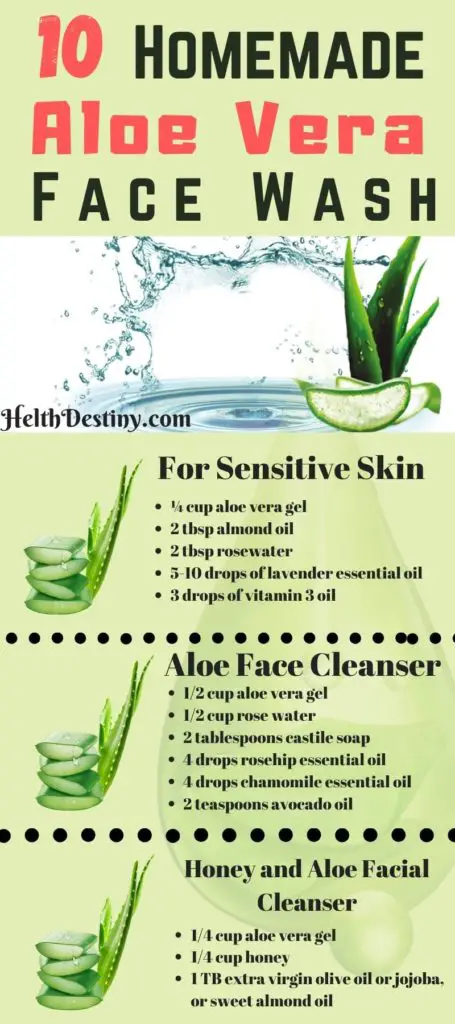 ---
1 . Homemade Aloe Face Wash For Sensitive Skin
Sensitive skin and cleansers seem to just never get along. All we want to do is get all the oil and dirt of our faces like everybody else! Yet, time after time, we use cleaners that claim to be sensitive skin friendly, and we wake up with blotchy faces. This homemade face wash for sensitive skin can put a stop to that vicious cycle.
The recipe is quite easy to prepare. You just need few ingredient in. It contains ingredients like aloe vera gel, lavender essential oil, rose water and others. These things are mainly useful in making the skin get instant glow and even will help you get a smoother skin.
Read more : 10 BEST ESSENTIAL OIL ANTI AGEING SKIN CARE SERUM
---
2 . Homemade Aloe Face Cleanser
Here are beenfits aloe evra has to offer
Exfoliating dry skin so skin appears smoother and softer
Soothing inflammation and irritation caused by bacteria
Reducing the appearance of acne, scars and wrinkles
Improving skin's moisture content
The recipe contains rose water – reduces oil production without damaging the skin. Because it has anti-inflammatory properties, applying rose water to skin may also reduce redness and irritation and soothe problem skin.
Rosehip seed oil and chamomile essential oil help fight free radicals, making skin look smoother and more radiant.
Read more : GRAPEFRUIT ESSENTIAL OIL BENEFITS AND SKIN CARE RECIPES
---
3 . Homemade Honey and Aloe Facial Cleanser
As the name says it contains the mixture of honey aloe vera and few other stuffs. Honey is rich in antioxidants , Honey Helps Maintain Skin pH ,Keeps Your Skin Moisturized .
With this simple home ingredient easily available you can mix it with few other stuffs described in the recipe and get yourself a youthful glowing skin in no time.
Read more : 7 ALOE VERA SKIN BENEFITS AND HOW TO USE IT
---
4 . Cleansing Aloe Face Wash
The main ingredient in this recipe is aloe vera gel , castile soap , lavnder essential oil ,tea tree oil . There are great beenfits of using lavender oil when used on skin .
Fights Acne
Soothes Eczema and Dry Skin Conditions
 Anti-inflammatory
Detoxifies Skin
Read more about Essential oils : 10 BEST ESSENTIAL OILS FOR SKIN CARE AND HOW TO USE THEM
---
5 . 3-Ingredients Aloe Face Wash
Useful ingredient in the recipes and their uses and benefits
Castile Soap is traditionally made from olive oil, but can come from coconut, avocado or hemp as well; also, it is the closest relative we have to the original soap made in ancient history. It helps cleansing and nourishing the skin, and penetrates the pores perfectly; moreover, it could help reduce acne and balance the natural oil production of the skin.
Aloe Vera Gel is one of the most popular skincare ingredients out there, and offers a good variety of benefits. This gel can help gently exfoliate the skin while efficiently moisturizing it, and fight acne and blemishes all the while; moreover, it can help shrink pores and remove stubborn makeup from the face.
Read more : GRAPEFRUIT ESSENTIAL OIL BENEFITS AND SKIN CARE RECIPES
---
6 . Homemade Aloe Face Wash for Daily Cleansing
Main ingredient are aloe vera, jojoba , lavender essential oil and castile soal, Cosmetic clays- are the cherry on your skin care sundae, and white clay is the mildest and most common form of them all. It is mildly abrasive to help exfoliate the skin and stimulate circulation, but is not drying.
---
7 . Lather Face Wash With Aloe Vera
Main ingredients and their benefits
Pure aloe vera – moisturizing, anti-acne, anti-aging
Vegetable glycerin – natural humectant (seals in moisture), oil regulating/anti-acne
Castor oil – great for dry, irritated, or acne prone skin, heals wounds, anti-aging
Castile soap – plant based, all natural, has many uses besides cleansing skin!
Essential oils – customize according to skin's needs (i.e. tea tree oil for acne prone skin)
---
8 . Anti-Inflammatory Aloe Face Wash
Aloe Vera Gel: light non-greasy moisturizer, anti-inflammatory, stimulates growth of new cells, full of antioxidants, fights allergic reactions, reduces redness(you can find it online here or here)
Sweet Almond Oil: full of vitamins, soothes irritation, reduces dark circles, anti-inflammatory, restores normal pH of the skin
Rosewater: anti-inflammatory, rich in antioxidants, beneficial to people with sensitive skin, reduces redness, natural antiseptic and astringent, great at removing oil and dirt from pores
Soapwort Extract: full of saponins that make it a gentle natural cleanser, anti-inflammatory
Lavender Essential Oil: anti-bacterial, antiseptic, anti-inflammatory, soothing benefits
Vitamin E Oil (optional): antioxidant, natural moisturizer, anti-inflammatory
Read more : 7 BEST MORNING HABITS THAT HELP YOU LOSE WEIGHT
---
9 . Homemade Aloe Face Wash
Unpasteurized honey is naturally anti-fungal (one of the reasons it never goes bad), antiseptic and is super-hydrating because it's a humectant and will pull moisture out of the air and into your skin.
Aloe vera is bursting with vitamins and soothing properties. A piece of aloe vera cut fresh from the plant, sliced open and applied to sunburned skin will do wonders to speed healing and soothe the pain and tenderness.
Read more : 8 SUPER WAYS TO REDUCE BELLY FAT FOR WOMEN IN 3 WEEKS
---
10. Aloe Face Wash Recipe for clear skin
Aloe vera is a miracle skin care and hair care ingredient and is widely used in Ayurveda recipes.Aloe gel- Has skin hydrating, soothing (anti-inflammatory), anti-inflammatory and anti-acne properties.
Vitamin E- Moisturizes skin, provides skin with anti-oxidants and also works as a preservative in the recipe. Kaolin clay- Removes impurities, dirt, excess oil from skin and keeps it cleansed and clear.
Read more : MEAL DIET PLAN TO LOSE WEIGHT IN A WEEK
---
Please comment for any related queries.