Grapefruit essential oil is highly rated for its cleansing, purifying and detoxifying effects. The aroma of it itself helps in increasing the energy levels ,ease tension and balance a tired and overwhelmed immune system. It has a sweet, energizing, and refreshing aroma that is known to be rejuvenating and uplifting. 
Grapefruit essential oil has a long list of documented propertirs that makes it one of the most sought after essential oils these days.The oil contains various phytochemicals that are known for their anticarcinogenic, antimicrobial, antifungal, antiseptic, antioxidant, diuretic, stimulant, and tonic properties. In more recent years, however, it has been highly celebrated for its ability to aid in weight loss.
There's something about being able to hide behind jeans and sweatshirts that is pretty comforting.And as amazing as the spring air feels right now, my skin (aka legs especially) are not ready for the warmer weather.
So before summer is officially here and I'm forced to show my lily whiteness, I am doing a little prepping.This includes using these simple grapefruit options I'm sharing today.I'm sure you've probably heard that grapefruit is great for cellulite.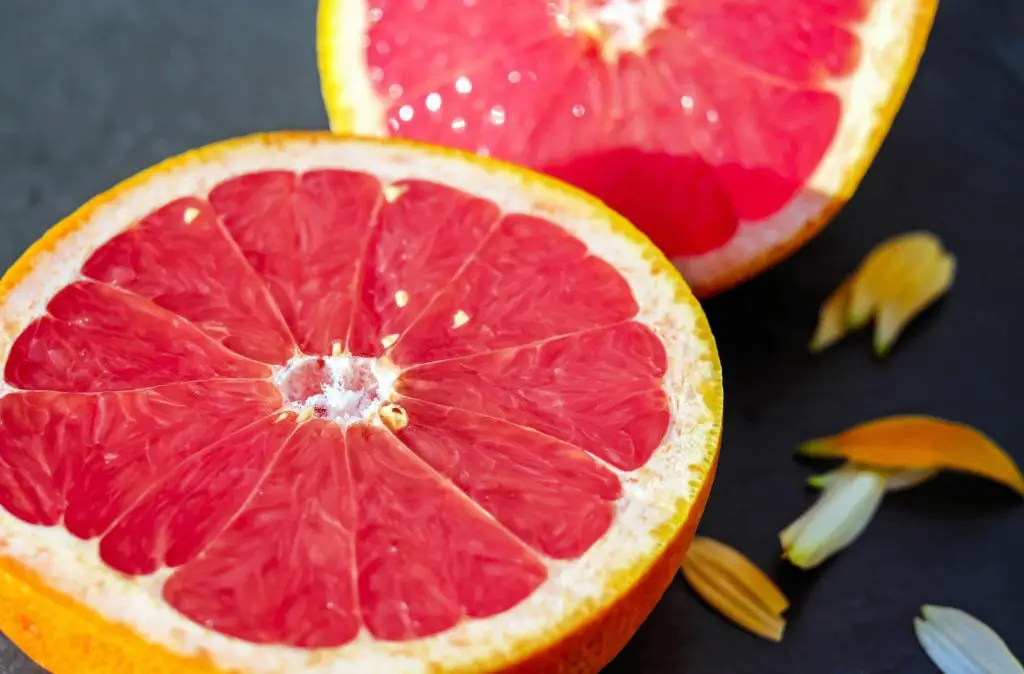 Uses and Benefits
The main chemical constituent of grapefruit oil is limonene. It comprises 88 to 95% of the chemicals found in the oil. This compound is also commonly found in other citrus fruits such as lemons and oranges. The other known major components of grapefruit essential oil are alpha-pinene, sabinene, geraniol, linalool, thujene, myrcene, terpinene, pinene, citronellol, caprinaldehyde, decyl acetate, and neryl acetate. Similar to the fruit, grapefruit essential oil is also rich in antioxidants, most especially vitamin C. It also contains vitamin A and lycopene, but in lower concentrations. (Source)
The oil is extracted through the mechanical compression of the rind of the fruit. This production process uses no heat or chemicals and preserves the integrity of the oil as well as the efficacy of its various volatile compounds. The oil from grapefruit is found deep in its peel, making its extraction more difficult and the yield far less compared to other citrus fruits' essential oils. The aroma of the essential oil smells exactly like the fruit: sweet, citrusy and a little bit bitter.
Removes Toxins and extra body fluid
The lymphatic system is considered the drainage or sewage system in our body. It plays an active role in promoting healthy bodily functions and in eliminating toxins from the body.
Grapefruit essential oil is reputed to have beneficial effects on the lymphatic system. It helps boost activity in the lymph gland, eases up the lymphatic flow, and reduces inflammation in the system. These functions help the body rid itself of toxins and fight problems like fluid retention, cellulite, blood urea, and renal calculi.
Lift up the mood and boost up energy
A study conducted by the Cancer Prevention Research suggests that grapefruit essential oil can help control the production of stress hormones. It showed that the administration of limonene, which is the major component of grapefruit oil, caused a significant decrease in adrenal steroid hormones.
Anti – inflammatory
The oil is composed of organic compounds that have effective anti-inflammatory properties.The antioxidants found in the oil can help reduce and prevent inflammation. Limonene is known to have inhibitory effects on various pro-inflammatory chemicals found in the body. When used regularly, the oil can help prevent and treat rheumatoid arthritis and degenerative conditions associated with chronic depression such as dementia, macular degeneration, and Alzheimer's disease.
Boosts immunity
Like all other citrus oils, grapefruit essential oil is rich in antioxidants, particularly vitamin C. The oil is packed with bioflavonoids that are known for their immune-boosting properties and for helping the body fight against free radicals. Along with its antimicrobial capabilities, the oil helps promote good health and protection against various diseases.
It is not only great for treating skin infections, it is also a natural remedy for gastrointestinal and respiratory infections.
Helps treat acne and oily skin
The antimicrobial and anti-inflammatory effects of grapefruit oil also aid in the management of acne. Incorporating the oil into your daily skin care regimen can potentially do wonders for your skin. You can add 3 drops of the oil in your preferred facial wash or apply the diluted grapefruit essential oil (3 drops of grapefruit essential oil and a tablespoon of jojoba oil) directly onto the skin after washing. This regimen can help prevent acne or, if you already have it, help shrink pimple and prevent infection and scarring.
Fights cancer
A study published by the Cancer Prevention Research showed that limonene, the major component of grapefruit essential oil, was effective the helping prevent the division of cancer cells in the 43 women with breast cancer that they tested. The size of the existing tumors in the subjects was also reduced.
Helps in weight loss
The active ingredients found in grapefruit essential oil are not only known to boost metabolism, they are also known to help suppress the appetite and food cravings, especially for sugar. It acts directly on the hypothalamus, the satiety center of the brain, when doing so.
The effects of daily consumption of grapefruit on body weight, lipids, and blood pressure in healthy, overweight adults.(Source : NCBI)
Hair care
Grapefruit essential oil is also reputed to help improve one's hair. This could help manage dandruff by helping reduce the irritation and inflammation caused by the growth and presence of fungus or bacteria in the scalp.
It is also a great hair cleanser. Helps get rid of dirt and excess oil on your hair while leaving it smelling fresh and fragrant. The oil can also help improve your hair's texture by keeping it smooth and shiny without making it too oily.
Interestingly, grapefruit essential oil has been found to be helpful in treating hair loss by stimulating hair growth and fighting inflammation in the follicles.
See Also: Essential oil Serum for skin care
Essential Oil Skin Care Recipes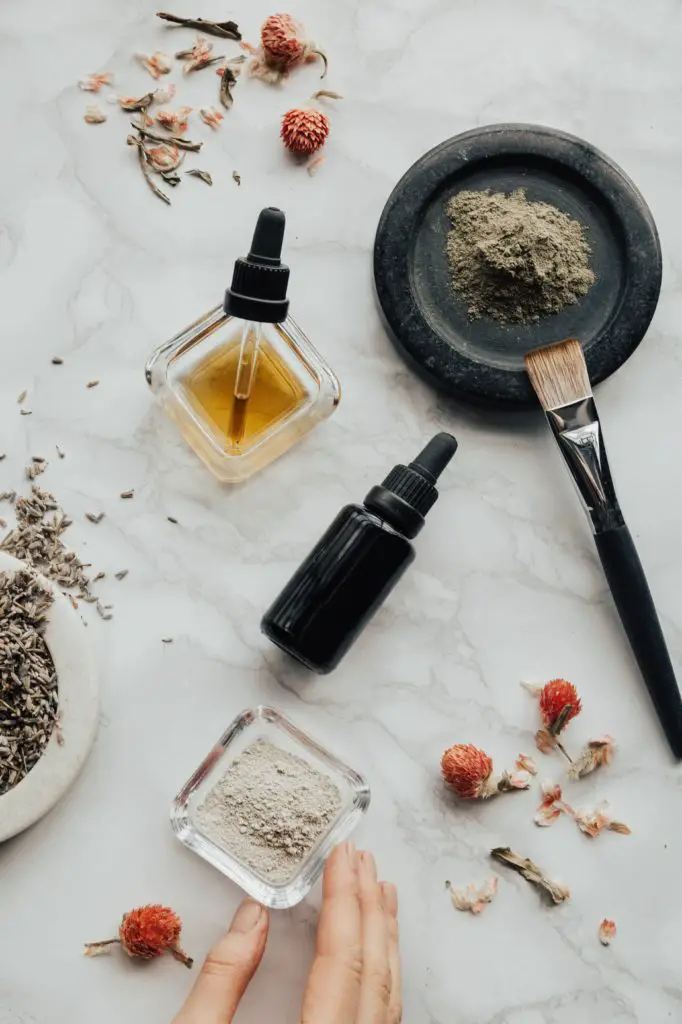 1. GRAPEFRUIT SUGAR SCRUB
A great place to start preparing for summer is exfoliating. This simple recipe will help remove dead skin cells and increase circulation to those trouble areas.
Ingredients:
3/4 cup organic sugar
1/4 cup coconut oil (feel free to swap for your favorite carrier oil: sweet almond, avocado, etc.)
15 drops grapefruit essential oil
Directions:
Combine all ingredients.
Place a small amount in the palm of your hand and massage over desired area.
Rinse well.
2. GRAPEFRUIT BODY/MASSAGE OIL
This is great to use on those trouble areas as well. Simply massage onto any area that could use a little tightening up. 
Ingredients:
1 ounce carrier oil (fractionated coconut oil, sweet almond, rosehip, jojoba)
24 drops grapefruit essential oil
Directions:
Combine both ingredients.
Place a small amount in the palm of your hand and massage over desired area.
Do not rinse.
Can be placed in a large-roll on bottle for easy application
See Also : 10 Best Essential oil for skin care and how to use them
3. GRAPEFRUIT CREAM
Ingredients:
1/2 cup coconut oil
30 drops grapefruit essential oil
Directions:
Combine all ingredients.
Place a small amount in the palm of your hand and massage over desired area.
Mixture can also be whipped to create a lighter body butter texture
Conclusion
Skin care is merely the hardest of them all, because of our daily lifestyle we mostly don't care about our body which results in unhealthy body. Use of these essential oils which help you gain and add to your skin care stuff, but apart from external care we need to focus on our daily diet that will boost up our skin health.
See Also : Super food for glowing skin and hair